Can I just say...........The man is HOT!!!!! (OK, I now have that off my chest ;) ). Under the cut is my report and pictures from Collectormania 16 in Milton Keynes in the UK, Monday 31st May 2010.
When I first heard that Joe was coming to the UK, I was overjoyed!!! The last time I had seen Joe was in February 2009 and I really wanted to see him again – perhaps more to see if he was just as nice as before or whether that had been all an act. As the convention got closer, I almost changed my mind on going – there were going to be no talks, no photos allowed etc, etc, and it seemed that it might not be so much fun after all. How wrong was I......
On arrival at the Stadium, my hubby Neil, my 4 year old daughter Jessie and myself met up with my friend and fellow Joe fan, Phenix. It was fantastic to see her again as I hadn't seen her since Chevron 7.2 :)

We quickly ascertained that Joe had not arrived yet so we decided to go into the Dealers Room as it was inside in the warm and it was freezing in the open air. Once inside we looked around the stalls looking to see if there were any Joe goodies to buy. It was at this point that Jessie managed to spot the only Disney Dalmation cuddly toy in the middle of a sci-fi convention!!! One cuddly toy (she loves Dalmations) and several spent pounds later we realised that it was nearly time for our photoshoot so we headed on over to the waiting area.

Joe walked up past the queue waving and smiling to everyone as he went along. He was dressed in jeans, his grey/yellow sneakers and his now famous England Football jacket and looked relaxed and happy.

Once inside we queued for the photoshoot. I walked up to Joe and he smiled and said "Hi, how are you?" I think I replied "fine, thank you" (I am sure I had a fangirl moment of thinking "Guh!"). Joe smiled and then turned towards me, I asked him that, if it was OK, could I please have a hug. Joe replied "Yeah, sure no problem" and he hugged me tightly. The photographer took our picture, I thanked Joe and then walked off to the other side of the room.

Next in line was my hubby who was carrying Jessie in his arms. Jessie is very shy and didn't want her photo taken so as Neil walked towards Joe for his photo, Jessie ran past Joe to me. As she ran past Joe looked at her, held out his arms and put on a cute all upset voice and said, "Oh no, come back – I wanted my picture taken with you." I apologised and said that she was too shy and picked her up as Neil had his photo with Joe taken. As we all walked away, Joe smiled and waved at Jessie, but she just buried her head in my shoulder and Joe looked quite sad.
We decided to wait for our photoOp pictures before getting our autographs, so we went for lunch and then looked around the remaining dealer stalls. Jessie kept asking when we were going to see Joe again and kept calling him
"Joe-Joe"
.
Again several cuddly toys and more money later we walked on over to collect our photos.
(SIDE NOTE: I do have to say that the Disney stall holder was very friendly and even gave Jessie some Dalmation toys for free as she loved Dalmations so much.)
As we collected our photos, I regretted that I had forgotten to take my hair down for the photoshoot with Joe. He looks amazing as usual, but with my hair up, I look really harsh, even though I am smiling :(
Joe and I
We took our photos, and as there was only a small queue, Phenix, Neil, Jessie and I all lined up for our autographs. Joe spotted Jessie and said "Hey cutie - I wanted my photo taken with you" as she approached him, he bent down over the table to be more at her level and asked how old she was and amazingly she replied that she was four. Joe replied "that is a great age to be". He signed all our autographs and I built up the courage to ask Joe if it was OK to take photos of him. He said "Sure that's no problem, click away." So my hubby, who had been designated as the photographer for the day, took some piccies. I thanked Joe for coming over to the UK and he replied that it was his pleasure and he shook my hand, waved at Jessie and both Jess and I moved on to let Phenix through to have her turn with Joe.
| | | |
| --- | --- | --- |
| | | |
| Jessie's First Autograph from Joe | | Jessie picked these out herself – Bless! |
| | | |
| Five Years of Sheppard signed | | "Boy, I pull some funny faces" ~ Joe Flanigan ~ |
We all moved away and sat down outside and away from Joe's tent. Some Storm Troopers came along and waited outside Joe's tent...... You know there is something very surreal about watching Storm Troopers guard Joe!!!!! Lol!!!
Protecting the Innocent!
Later on, Jessie kept asking to see 'Joe-Joe' again – after a while she even did a sit-in protest saying that before she went home she wanted to see Joe-Joe again, so I decided to do one last autograph. Jessie picked a photo from the table that she liked and walked up to Joe's table and put it on the desk. Joe was opening something and beamed at her when he saw her again, "Hey there – you're back. Do you like chocolate?" Jessie nodded her head and Joe handed her some chunks of chocolate which she took. She went all shy and then hid behind me, I thanked Joe and explained that she was very shy and Joe replied, "Don't worry, I was shy until......well I still am." Phenix said that he was speaking to us so surely he wasn't shy, but he replied that he was very shy until he was about 25 and so that he understood perfectly how she felt. Joe talked to us some more about his shyness and then some more people came over so it was time for us to move on.
After that, Jessie kept asking to go back and see Joe-Joe over and over but I am pretty certain that was because she wanted more chocolate!
Unfortunately the time came for us all to leave, so we waved goodbye and Joe waved and shouted, "Bye-bye sweetheart – do you want some more chocolate?" Luckily Jessie had gone all shy again and didn't hear him or I am sure she would have gone running right back into his tent! Joe then shouted, "Oh, but don't take chocolate from strangers – unless it's from Joe!"
With that he gave us a big wave, a beaming smile and we left.
Despite the cold and the wind and the lack of talks, we had a great laugh and lots of fun and Joe really is as amazing as he seems, charming, kind, generous, funny and of course, as sexy as ever.
We weren't really allowed to take any photos but Neil and I managed to sneak some in as we had a telescopic lens so we could stand away from everyone so as not to interfere and still take some pics. There are not many and not the best quality but I'll share them anyway. Click for bigger copies :)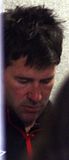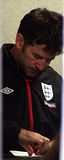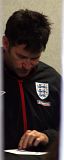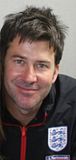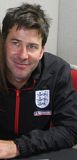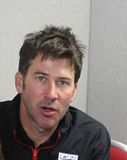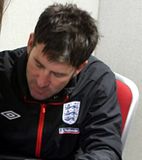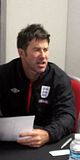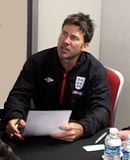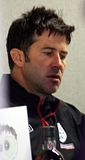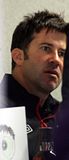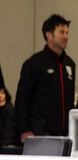 PHOTO USAGE: (All photos are clickable thumbnails)

You are welcome to share or use the pics of Joe etc, but please cut me out if you wish to share/use my photoshoot pic elsewhere – Thank You :)
And as they say..... "That's All Folks!"
I Feel...:
bouncy